Here's my tale of grabbing random parts, some junkbox components, a chunk of water pipe and the propane torch and building a mobile HF antenna to play with!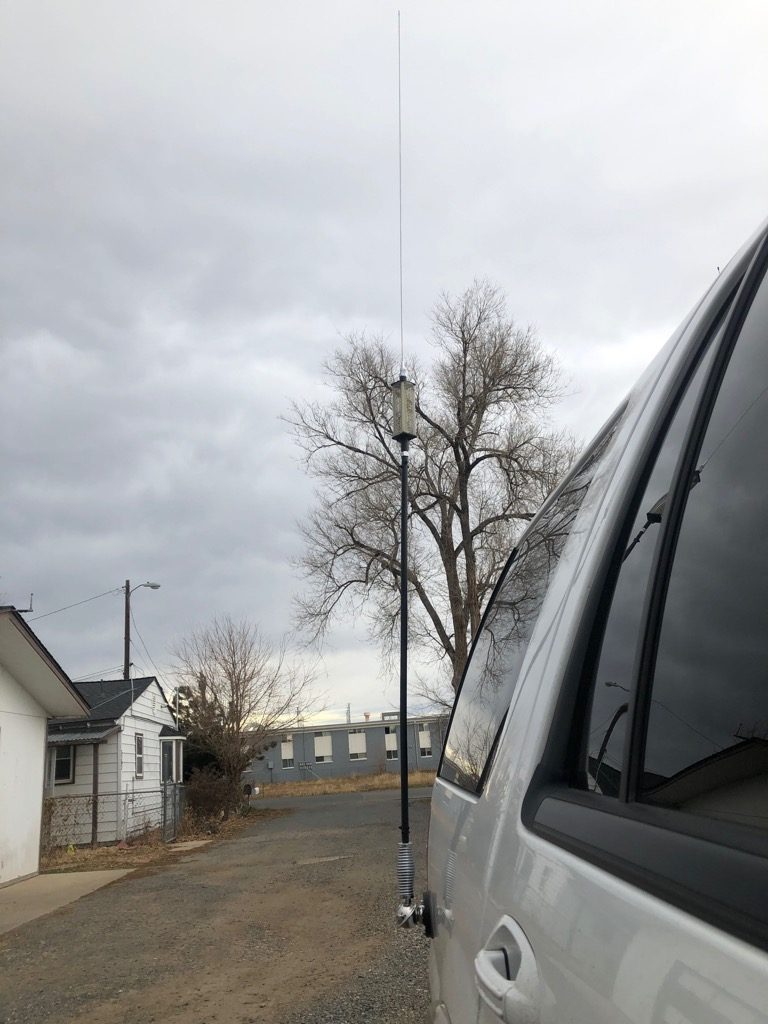 After getting the ball mount installed on the Expedition this weekend, I tuned up a couple of hamsticks and built a 2:1 unun to better match to the 20-25 ohms most shortened HF whips have. They worked great! ….. on frequency. The hamsticks are pretty narrow banded.
So, piecing random stuff together, here we go.
The whip is a standard hamstick stinger.
Coil is the tappable coil from my MFJ Big Stick that I use for portable – it seems pretty sturdy, I need to figure out a better solution for tap points as the tiny alligator clip isn't quite cutting it, but it works for now.
The mast is 3 feet of 1/2″ copper pipe and the ferrules from an old dead 12m hamstick.

Just heat them with a torch until you hear a little sizzle, then pull off. They're a perfect press fit inside 1/2″ pipe.
After they were tapped in and checked for straightness, I soldered them to the pipe with plenty of flux – the solder wicked nicely up between the hex flats on the fittings and the inside of the pipe.
Finally, I drilled two 5/32″ holes at right angles through the fitting and pipe at each end, tapped all the way through with a 10-24 thread, ran 1″ brass screws through and locked them down with brass nuts.
After that, we used two coats of Rustoleum satin black primer+paint, let it cure overnight, and here we go!
It seems quite strong, with no rattles or wiggles, and far less "noodley-ness" than the fiberglass hamsticks. I chose a mast height that wouldn't be too floppy (that coil has some wind load), but that was tall enough to get the coil at least one foot above and one foot away from the top of the body, as I hear coil losses between the coil and sheet metal are highest when you don't give it enough space.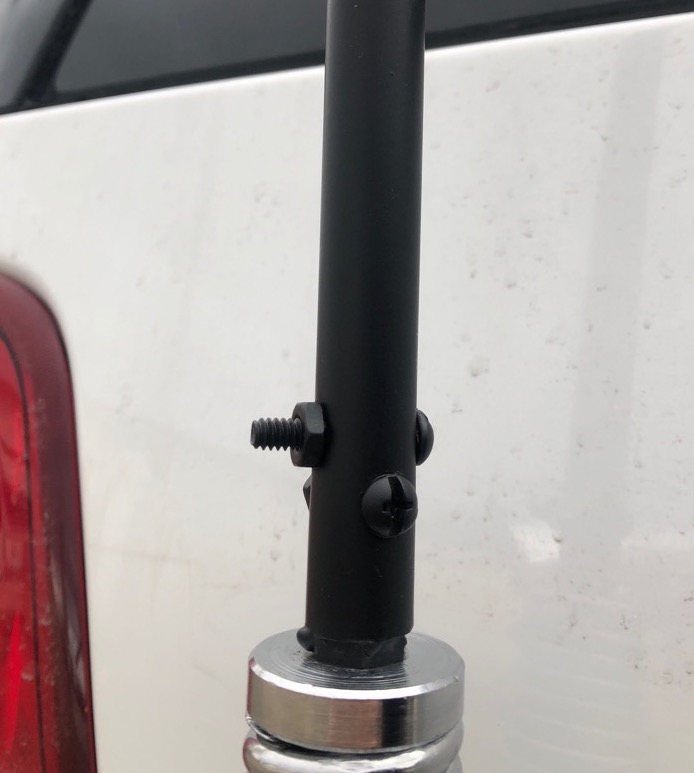 Performance is impressive. Unfortunately the lowest it will go right now is 9.5 MHz with the full coil, so 40's not quite in sight, but for 30 through 12 meters (it's a bit long for 10) I can find a tap point to give me <1.5:1 SWR across the entirety of each band. 20, 17, 15 meters have minimum SWR of 1.1 and 30 and 12 give 1.2. Keep in mind that this is with a 2:1 unun in line, so this would be quite a bit higher with straight 50 ohm feed. 350 khz 1.5:1 SWR on 20 meters is way better than the 60-70 khz 2:1 bandwidth I was seeing with the 20 stick.
Looking forward to going out this weekend and finding a nice ridge and testing it out! Still on the hamstick for 40m, but it's okay – i'll live for now.